03 Apr 2023

Nominate Haynie & Company! MRT Readers' Choice Awards

The 2023 MRT Readers' Choice Awards nominations are here! Residents in the Permian Basin area are eligible to vote. Nominate your favorite businesses April 3 – May 1, 2023.

Each year The Midland Reporter-Telegram accepts nominations for the MRT Readers' Choice Awards. Area residents get a chance to recognize the businesses and places they think are worthy of the award. You may nominate one business per category once per day through the nomination period. The top five businesses in each category will then advance on to the voting round.

Your nomination matters! Your nomination will give us the opportunity to advance to the voting round.

Haynie & Company is proud to serve the Midland, Texas region. We would be extremely grateful to receive your nomination for both the "Accounting Firm" and "Tax Service" categories.

Don't wait! Nominations are only open through May 1, 2023.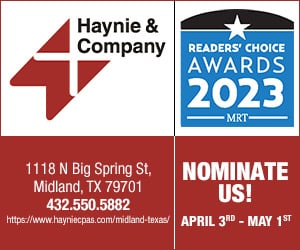 Contact Us
DO YOU HAVE QUESTIONS OR WANT TO TALK?
Fill out the form below and we'll contact you to discuss your specific situation.