01 May 2023

Haynie Gives: BiG Heroes Fun Run

Haynie & Company Brownsville proudly sponsored the BIG Heroes Fun Run on April 29, 2023, supporting Autism Awareness Month.
About BiG Heroes
Believe in God's (BiG) Heroes is a non-profit organization that provides young adults with intellectual disabilities the opportunity to gain valuable life skills and training while creating handcrafted items to sell to support their program. BiG Heroes also provides presentations from community professionals that help its members develop essential life skills and health knowledge for healthy living.
Haynie Gives
Haynie & Company is committed to serving its communities, and supporting this important cause aligns with our core values. Nicole Cuevas from our Brownsville office expressed her joy in contributing to BiG Heroes, stating, "It brings me happiness that we, as a team, are supporting and cheering for the BiG Heroes in our community." Most of our Brownsville office attended and participated in the event. Edgar managed the Haynie booth, where the bubbles were a hit. Kat Guerra and Jesse Ramos, two Haynie staff members, participated in the 5K Run, with Kat Guerra placing fourth and Jesse Ramos taking second place.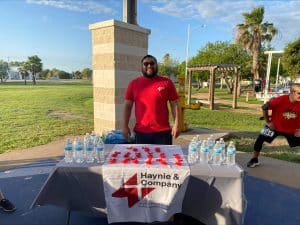 Contact Us
DO YOU HAVE QUESTIONS OR WANT TO TALK?
Fill out the form below and we'll contact you to discuss your specific situation.